7 tags
New Website! →
Journey of a young fashion designer, inspired by innovative, and eco movements within the fashion and textiles industry.
12 tags
LFW, Fashion Scout Exhibition
On the monday after the shows i got a chance to have a look around the Fashion scout exhibitions at the Freemasons hall. It was great to get to see the work of the new up and coming designers. And personally i think their work is perhaps the most interesting collections to see during Fashion week! It was also great from my own perspective, as a new young designer, as many of the designers...
11 tags
LFW, Heohwan Simulation Show
So after checking into the hostel, it was once again time to head to another show, this time with out a ticket! After waiting around outside, we crept inside through another door, and when we asked about getting in we were told to wait to one side then we could probably get in. After hanging around a while we were sadly turned away, there were no more spaces left. So feeling defeated we headed...
9 tags
LFW, Eugene Lin Show
Last week saw the end of London Fashion week, I managed to head down to London to catch the last two days, and what an atmosphere! over the next week or so I will be posting all about my time spent in London, so enjoy! Getting into London at midday it was time to head to straight to our first show! I managed to get tickets for the Eugene Lin Fashion scout show at the Freemasons Hall. This was the...
6 tags
6 tags
5 tags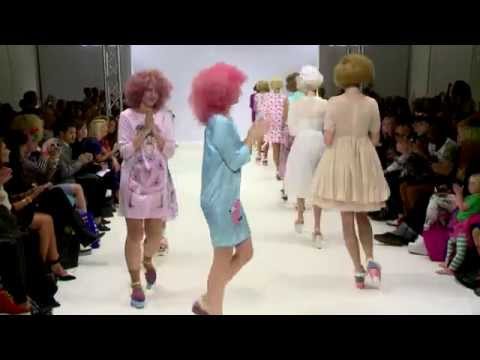 14 tags
Learning From Denim
My denim project has now come to an end! My final make was a pair of five pocket jeans branded for Ted Baker. My concept was looking at trends in denim for A/W13-14 going on into S/S14. I choose to make my jeans from a metallic purple denim, which i then hand coated with otter wax. On the jeans i included the Ted Baker back pocket logo, as well as making up my own Ted Baker engraved leather waist...
7 tags
8 tags
12 tags
7 tags
2 tags
8 tags
FS2013 Young Designer Award Entry
Recently i decided to enter the FS2013 and Alfa Romeo Young designer Award. To my surprise i got through to the second round in the competition and had to go on to design a 5 piece collection, based on the brief 'Fragments of the Imagination' and inspired by the iconic Alfa Romeo car manufacturer. After doing my research i felt really inspired by fairy tales and looked into the...
9 tags
Half Way Through The First Term Already!
Its already been 6 weeks at uni, time already seems to be flying by so quickly! So far we have been carrying out workshops in pattern cutting, creating and playing around with 1/4 sized pattern pieces, and sewing, creating sample parts for a shirt. By Christmas we are to have made a shirt, inspired by Absurdism, Traveler,  Frenetic, or Clinical  which has lead me to some interesting research, and...
7 tags
Great Artical On How to approach your business... →
2 tags
11 tags
New Chapter!
Start of a new chapter! I had a good summer working, blogging, going away with family, reading some inspiring books, and experimenting more with my analog photography. All the while getting ready for starting uni life! One of my holiday snaps, using my diana + and 35mm back to get a double exposure!  I have now officially moved to Cornwall to start my Ba(hons) in Fashion Design, at UCF and so...
3 tags
"Nothing is Original, Steal from anywhere that resonates with inspiration or..."
2 tags
Fashxtile →
I haven't been doing many projects at the moment to share with you, although i have been busy creating a lot of posts for my other blog Fashxtile! Fashxtile is where i document designers and artists that i like and inspire me, i try to mix up the content with photos, videos, and writing. I hope to start making visits to fashion shows in person and i will be sure to do blog posts on both this...
4 tags
"'Fashion is what one wears oneself. What is unfashionable is what other..."
7 tags
1 tag
3 tags
5 tags
New Technologies A-Z guide. →
New Technologies artical by Alina Rätsep for Not Just A Label, thought it was very interesting! 
1 tag
1 tag
4 tags
Moo business cards!
This morning i had a parcel turn up on my door step … it was my Moo buisness cards! I am so pleased, not only do they look great, they also arrived early and in a little box to store them!  Moo offer an infinity print option which means you can have a variety of designs on the front of the cards, i went for one fashion illustration design, and 4 photos from my 'tribal'...
1 tag
Moo cards!
I'm soo excited to see how my buisness cards turn out! Moo cards infinity option means you can have a variety of images on your cards, I made a few alternative designs, one with a fashion illustration, and a few with some photos from my 'tribal' final piece photoshoot. Hopefully i should get them next week … in the mean time here's a discount code for anyone...
1 tag
Fashxtile, Project Blog!
This is my other blog full of great fashion & textiles design … Fashxtile! 
4 tags
5 tags
4 tags
6 tags
4 tags
6 tags
Final Week!
This is the final week for completing my project work (ek!!). So far i have finished two dresses, and half way through the third! The first two are pretty similar, with just the print different, so for the third dress i wanted to do something a little bit different, which made me look in to Canadian (or North American) smocking. I played around with the design and decided to make it go across...
4 tags
5 tags
10 tags
Macrame !
I feel really inspired at the moment to develop my work further using the technique macrame. I have looked into a few artists such as Chichi Luo, but i feel most inspired by the works of Eleanor Amoroso.  Here are a few images of Amoroso's Autum/Winter 2012 collection and also the Spring/Summer 2012 collection…   I love the structures of these pieces, and feel they link in with...
8 tags
A Few things on the go!
At the moment i have a few ideas and parts of my project i am working on and developing… First is my garment, so far i have developed my first design idea to go with a head piece i created earlier on. I plan to print on the lower skirt of my dress with a same flower print. I quickly created a few illustrations of my ideas… My garment is inspired by 1920's box silhouette, with...
6 tags
5 tags
7 tags
10 tags
Photograms
For my metal neckpiece, and possibly on fabric for my garment, i wanted to experiment with screen printing. I wanted to create simple prints so decided to look into using photograms as a starting point … I am inspired by the photograms produced by 'Ada Loves the Rain': I started to play around with creating different patterns using dead palm leaves, fabric flowers, and...
8 tags
Development of my Work mid-project!
Whilst Carrying out more research i have also been getting on with more of my knitted pieces. I experimented with making a knitted tube structre to go aound the head, and embelished it with flowers to see how it would look… This was the development of adding the flowers however i felt compared to the full version (below) less was more effective, and showed my knitting a lot better. I...
10 tags
7 tags
7 tags
Holiday Knitting Update!
Over the Easter holidays i have been experimenting further with my knitting, using a mix of wire and wool, which works well. I previously experimented with a circular knitting loom, from which i created a long knittted tube, during the holidays i have experimented with a long loom, creating a flat piece of work… I then put some of my knitted pieces together which i think works quite well...
7 tags
Knitting with wire experiments!
I have been inspired by the Han Silvester photography to create these knitted wire tubes, which i will place around the head in the way the tribal people do. I plan to try and recreate some of the flowers and other natural objects and weave them into the knitted tube. 
7 tags